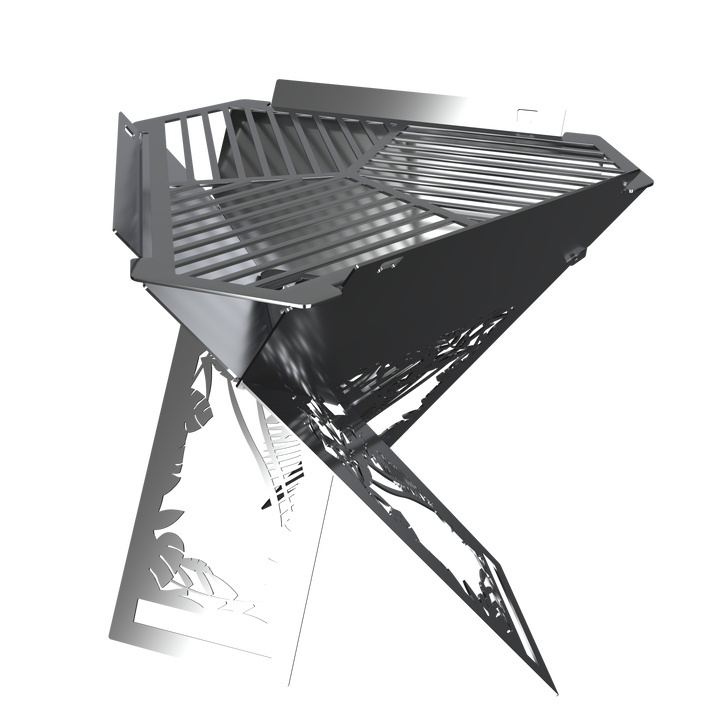 Leaf Collapsible Portable Outdoor BBQ and Fire Pit - Stainless
Save €20, Was €69,95
Now €49,95
Light enough to carry and strong enough to withstand the heat of a firepit, the Wild Grill is an easy-to-carry, flatpack portable BBQ, that can be used as a handy firepit after the last kebab has been eaten. The top of the BBQ is at the perfect height for sitting around in camping chairs, whilst keeping the grass safe from scorching, so you can toast those marshmallows without evening getting up! We've thought of everything, with an integrated bottle opener, there's no need to do your party trick and break a tooth!
Made with 3mm stainless steel, the BBQ cooking grate is easy to wash and keep clean after cooking, with the bottom grate holding the ashes, with plenty of aeration to keep those embers glowing all night with air flowing through the logs to keep an even burn. All you have to do is keep topping up your firepit with logs!
Simply start with one panel, slot the second one in place, clip the safety pin at the top, and secure - do this with the next two panels, pop the bottom grate in and the top grate sits level with three ends in the gaps that the side panels make at the top. Assembled without tools, everything slots into place easily, and is secured with three safety pins.
Leave to cool before cleaning and packing away in its very own carry bag. The Wild Grill BBQ/Firepit doesn't take up any space, once packed away, the BBQ can lay flat in the back of the car and assembles in minutes.
| | |
| --- | --- |
| DETAILS | |
| Material | 3mm zinc-coated steel sides, 3mm stainless steel grill, clip |
| Weight | 8.7 KG |
| Assembled size | 49cm x 49cm x 47cm high |
| Packed size | 57cm x 42cm x 1.2cm |
| Grill size | 36cm x 36cm, up to 6 people |
| Includes | Storage Bag |
Other Customers Loved The Following...